"Where did you say you and your friend were going?" asked my flatmate.

"Oh, a stately home with nice gardens."

"...annnd?"

"...and it's a Bond location."

I had the day off, and had arranged to meet my chief Bond-nerd pal M at Stonor Park, best known to me and countless other fans as the MI6 safe house in The Living Daylights whence the defecting Russian general is snatched by baddie Necros disguised as a milkman.




You can't currently tour the house, but you can explore the grounds and walk round the gardens, and really it was just an excuse for a day out in these limiting times.

I was surprised by what a real and magical thrill it was to sweep up the drive and catch sight of the house just the way James Bond does (I'd somehow assumed there would be a separate entrance for tourists).




I was late due to missing my exit off the M4, but met M in the car park, where we caught up over our packed lunches and Jack Wolfskin flasks of coffee before walking round the pretty walled garden. Tourism done, it was on to the nerd part.

I had brought the model Huey I built in lockdown, carefully swaddled in bubble wrap, so I could take its photograph at the location it appears in the film. Here it is: the nerdiest forced-perspective shot: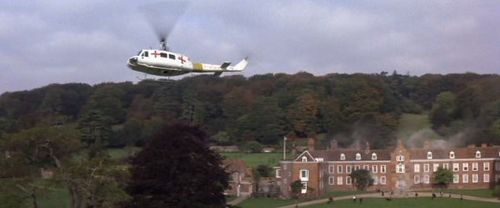 As we searched for a good spot I accidentally attracted some free-ranging chickens, and they followed us about.

Half a mile up the road is White Pond Farm, now a B&B, where Necros kills the milkman and steals his float in order to infiltrate the safe house. We made a quick photo stop here, and got a smile from one of the residents, who is probably used to this sort of thing.




We parted after this, M heading north to pick up the M1 while I went back the way I had come, through Henley-on-Thames. It was a silly, fun, nerdy day out and I loved it.